Please visit
WatchSoMuch.com
for our official address, Most functionalities will not work on unofficial addresses.
The Last Faust 2019 1080p WEBRip x264-RARBG [MP4]
Basic Info
Size:
2.1 GB (2,211,416,637 bytes)
Source:
Webrip (High Quality A/V usually same quality as Bluray)
Quality:
Video: NA/10 Audio: NA/10 (1 Votes)
Resolution:
FullHD (1080p)
Torrent details
Hash:
954228E256C7155C3A8C09BD1F9A7DCF0371CFE6
Upload Date:
12/2/2019 4:59:52 PM (8 months, 1 week ago)
The Last Faust (2019)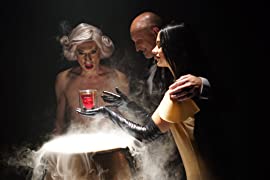 Drama
UK (English)
107 min
WebRip

10/10

10/10

0

Updated on 2019 Dec 03

788 Downloads
Director:
Philipp Humm

,

Dominik Wieschermann
Cast:
Steven Berkoff

,

Martin Hancock

,

Glyn Dilley

,

Yvonne Mai

,

Edwin De La Renta

,

Scarlett Mellish Wilson

,

George Keeler

,

Paul Orchard

,

Valerie Pain

,

Marlon Roberts

,

Mace Richards

,

Corinne Swallow

,

Marina Stoimenova

,

Isabella Bliss

,

Isabella Bliss
Synopsis
Based on the tragic play by Johann Wolfgang von Goethe, The Last Faust is told from the perspective of Faust's future successor Dr Goodfellow, played by TBC. Faust's Pact with the devil has unleashed technology that threatens mankind and Dr Goodfellow, as the current CEO of the world's biggest Tech company, Winestone INC, races against a ticking clock to document what may be humanity's last remaining hours. The Last Faust is a multi-faceted exploration of what it is to be human, complex and rich in contemporary references. Besides The Pact with Mephisto, the film tells of Faust's tragic love story with 16 year old Gretchen and his blind passion for the mythological goddess Helena. As well as travelling through real and mythological worlds, The Last Faust also transcends time, as Dr Faust punctuates key German historical moments such as the advent of money printing, the Greek war, and the beginnings of the cynical materialism of the modern day Church.