Please visit
WatchSoMuch.com
for our official address, Most functionalities will not work on unofficial addresses.
Crawl (2019) BluRay 720p x264 - YIFY [MP4]
Basic Info
Size:
779 MB (816,397,149 bytes)
Source:
Bluray Rip (Best quality A/V)
Quality:
Video: NA/10 Audio: NA/10 (0 Votes)
Torrent details
Hash:
7AF8A4FF263EDEC135E60D0C8531B1D564D5AFEF
Upload Date:
10/4/2019 6:13:53 PM (1 month, 1 week ago)
Crawl (2019)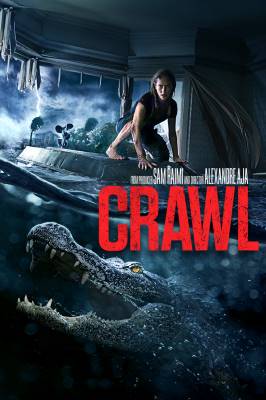 Action, Drama, Horror, Thriller
USA, Serbia, Canada (English)
87 min
Bluray

10/10

10/10

11

Updated on 2019 Oct 12

23,422 Downloads
Cast:
Kaya Scodelario

,

Barry Pepper

,

Morfydd Clark

,

Ross Anderson

,

Jose Palma

,

George Somner

,

Anson Boon

,

Ami Metcalf

,

Tina Pribicevic

,

Srna Vasiljevic

,

Cso-Cso

,

Colin McFarlane

,

Annamaria Serda

,

Savannah Steyn

,

Jovana Dragas

,

Christopher Landry
Synopsis
Against all logic, the competitive swimmer, Haley, drives into the mouth of a furiously destructive Category 5 hurricane on a collision course with her hometown of Florida, to check in on her estranged father, Dave. There, in their weather-beaten house amid a rapidly sinking and alligator-infested town, Haley and her father find themselves trapped in the labyrinthine mess of their flooded crawl space, where a merciless pair of six-metre predators is silently stalking them. Now--as Haley and Dave are gasping for air in the claustrophobic basement--only their will to survive can help them stand a chance against the scaly adversaries' powerful jaws. Can they escape without getting eaten alive?