Please visit
WatchSoMuch.com
for our official address, Most functionalities will not work on unofficial addresses.
Sgt. Stubby: An American Hero (2018)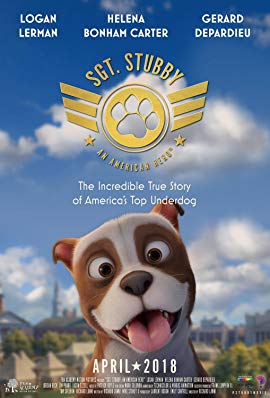 Animation, Adventure, Family, History, War
Ireland, UK, France, Canada, USA (English, French, German)
84 min
Bluray

10/10

10/10

1

Updated on 2018 Dec 22

17 wins & 5 nominations.

7,038 Downloads
Cast:
Logan Lerman

,

Helena Bonham Carter

,

Gérard Depardieu

,

Jordan Beck

,

Jim Pharr

,

Jason Ezzell

,

Guillaume Sentou

,

Christophe Lemoine

,

Nicholas Rulon

,

Brian Cook

,

Audrey Sablé

,

Coline Haas

,

Pierre-Marie Rochefort-Schneider

,

David Blin

,

Becca Stewart

,

Jason Wilson

,

Adam James

,

Claire Gordon-Webster

,

Will Adamsdale

,

Nigel Pilkington

,

Leemore Marrett Jr.

,

Matthew McCabe
Synopsis
With the war to end all wars looming, a young army "doughboy" Robert Conroy has his life forever changed when a little dog with a stubby tail wanders into camp as the men of the 102nd Infantry Regiment train on the grounds of Yale University. Conroy gives his new friend a name, a family, and a chance to embark on the adventure that would define a century. Despite lacking formal military working dog training, Stubby the dog and his human companions find themselves in the trenches of France and on the path to history. French Infantryman Gaston Baptiste befriends the duo and accompanies them along their epic journey through harsh conditions and incredible acts of courage. For his valorous actions, Stubby is recognized as the first canine ever promoted to the rank of Sergeant in U.S. Army history.