Please visit
WatchSoMuch.com
for our official address, Most functionalities will not work on unofficial addresses.
Three Billboards Outside Ebbing, Missouri (2017) Bluray 720p x264 - YIFY [MP4]
Basic Info
Size:
847 MB (888,351,040 bytes)
Source:
Bluray Rip (Best quality A/V)
Quality:
Video: NA/10 Audio: NA/10 (0 Votes)
Torrent details
Hash:
40AE46126CB027C6C94E37CAD1CDF1B632EC3DE9
Upload Date:
2/15/2018 4:41:39 PM (2 years, 1 week ago)
Three Billboards Outside Ebbing, Missouri (2017)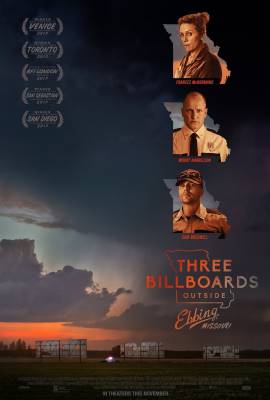 Crime, Drama
UK, USA (English)
115 min
Bluray

10/10

10/10

8

Updated on 2019 Mar 08

Won 2 Oscars. Another 119 wins & 219 nominations.

21,882 Downloads
Director:
Martin McDonagh
Cast:
Frances McDormand

,

Caleb Landry Jones

,

Kerry Condon

,

Sam Rockwell

,

Alejandro Barrios

,

Jason Ledford

,

Darrell Britt-Gibson

,

Woody Harrelson

,

Abbie Cornish

,

Riya May Atwood

,

Selah Atwood

,

Lucas Hedges

,

Zeljko Ivanek

,

Amanda Warren

,

Malaya Rivera Drew
Synopsis
THREE BILLBOARDS OUTSIDE EBBING, MISSOURI is a darkly comic drama from Academy Award nominee Martin McDonagh (In Bruges). After months have passed without a culprit in her daughter's murder case, Mildred Hayes (Academy Award winner Frances McDormand) makes a bold move, painting three signs leading into her town with a controversial message directed at William Willoughby (Academy Award nominee Woody Harrelson), the town's revered chief of police. When his second-in-command Officer Dixon (Academy Award winner Sam Rockwell), an immature mother's boy with a penchant for violence, gets involved, the battle between Mildred and Ebbing's law enforcement is only exacerbated.