Please visit
WatchSoMuch.com
for our official address, Most functionalities will not work on unofficial addresses.
Gantz Perfect Answer (2011) BluRay 1080p x264 - YIFY [MP4]
Basic Info
Size:
2.2 GB (2,392,370,908 bytes)
Source:
Bluray Rip (Best quality A/V)
Quality:
Video: NA/10 Audio: NA/10 (1 Votes)
Resolution:
FullHD (1080p)
Torrent details
Hash:
1F6EFADB0B46F556B342655759F5BB53D8E8CEC3
Upload Date:
9/11/2019 12:55:54 PM (1 month, 1 week ago)
Gantz - Die ultimative Antwort (2011)
- Also known as "Gantz: Perfect Answer"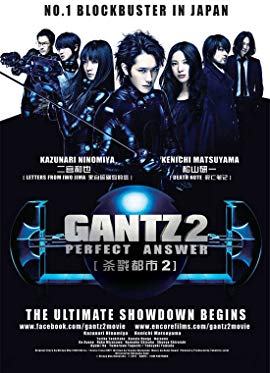 Action, Horror, Mystery
Japan (Japanese)
Japan: 141 min
Bluray

10/10

10/10

0

Updated on 2019 Sep 11

2,862 Downloads
Cast:
Kazunari Ninomiya

,

Ken'ichi Matsuyama

,

Yuriko Yoshitaka

,

Ayumi Itô

,

Kanata Hongô

,

Kensuke Chisaka

,

Gô Ayano

,

Shigeru Oxe

,

Yasuyuki Hirano

,

Masafumi Oishi

,

Kyoji Kamui

,

Masanobu Sakata

,

Naho Toda

,

Ryûya Wakaba

,

Takayuki Yamada
Synopsis
Kato's (Ken'ichi Matsuyama) death changes Kurono's (Kazunari Ninomiya) view of life completely. He decides to keep fighting until he earns 100 points so that he can bring back Kato. GANTZ calls back several other unwilling participants that were allowed to leave after scoring 100 points. Before Kurono succeeds in resurrecting Kato, he unexpectedly comes back. GANTZ and the fighters take on another enemy worse than ever before. To make matters worse, GANTZ starts acting up. GANTZ chooses the next target... this time it's not an alien but a human girl. Each unwilling participant in GANTZ's twisted game has a different motive for fighting, whether to protect a loved one or to do what they think is right.